Sutera's 30-Day Satisfaction Guarantee
While inventory is still available, order Sutera's new "self cleaning" bed sheets today. (Save up to 55%, and get free shipping on every order.) When your package arrives, sleep on the sheets for 30 days. If you're not 100% satisfied that Sterling Sheets are the most luxurious, and highest-quality sheets you've ever used... simply contact our Customer Support Team by email at support@sterlingsheets.com or by phone at (949)-561-1019 and one of our agents will handle your fast, no-hassle return.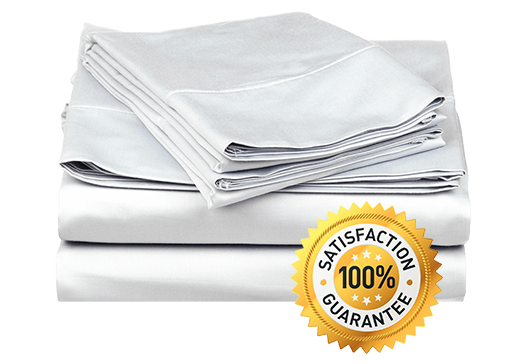 What Happy Customers say about
Sutera Sterling Sheets
"These sheets were a wedding gift, but I would've bought them myself in a heartbeat. They're so plush, so velvety… incredibly cool to the touch. They make me feel like I'm in a hotel every night. We had Egyptian cotton covers before and I thought they were the best ever. But then I tried Sterling and I was just… blown away. The antibacterial infusion is a huge plus. Hands-down the most luxurious sheets I've ever had."
Victoria M.
"Is this what astronauts use 'cause they could never do laundry up there? Seriously these sheets are a game-changer. I've been looking to upgrade my beddings ever since I became more sensitive to dust. I researched silver-infused fabrics and Sutera was personally recommended by a friend. These stay so fresh and clean and I've never had an irritation. Plus they feel incredible. So worth every penny."
Dani C.
"I get hives after exposure to dust or animal fur so I used to change bed covers 1-2 times a week. It got super tiring so I decided to try Sterling. That entire first week I noticed the usual blotches and itchiness I get when hitting the bed were immediately far less frequent. These helped with my morning sniffles as well. I love lying down on them and just letting my hands and feet glide over the smooth and cool sheets until I fall asleep…"
Cailyn D.
WITHOUT Silver Ion Coating Conventional Cotton Sheets
Dust, sweat, dirt, oils, and other particles that breed bacteria collect in the nooks and crannies of cloth fibers. These transfer right back to your skin upon contact and can lead to irritation, breakouts, or other issues.
WITH Silver Ion Coating Sutera
Sterling Sheets
Ultra-fine silver crystals line the cotton threads and release silver ions when the conditions for bacterial growth exist. These ions have proven antibacterial properties, so microbes are effectively destroyed on the sheet's surface.
Frequently Asked Questions
How does the silver ion infusion in these sheets work?
Sutera Sterling Sheets use patented Silpure® Silver Ion Coating to infuse the Supima Cotton fibers with ultra-fine antimicrobial silver crystals. These crystals release silver ions at a controlled rate when the conditions for bacterial growth exist. Since these ions are extremely toxic to bacteria, microbes are effectively destroyed on the sheet's surface. This effectively prevents 99% of irritating and odor-causing bacteria from building up on the sheets and transferring to your body.
How long does the silver ion infusion last?
The Silpure® Silver Ion Coating on our sheets has been laboratory-tested to last for up to 30 washes, adding up to 2+ years if the sheets are washed once a month.
How many sheets come with each order?
Each Sutera Sterling Sheets set comes with 1 fitted sheet, 1 flat sheet, and 2 pillowcases. Sutera Sterling Sheets come in Queen size.
What happens if they don't work for me? Is there a Return Policy?
The vast majority of our customers report having better sleep with their Sutera Sterling Sheets. However, if you're not 100% pleased with your purchase, we're proud to offer a 30-Day Satisfaction Guarantee. Simply send us an email and we'd be more than happy to assist you with returns.
How long does it take for Sutera Sterling Sheets to arrive?
All U.S. orders get to your house in 5-8 business days from our warehouse!